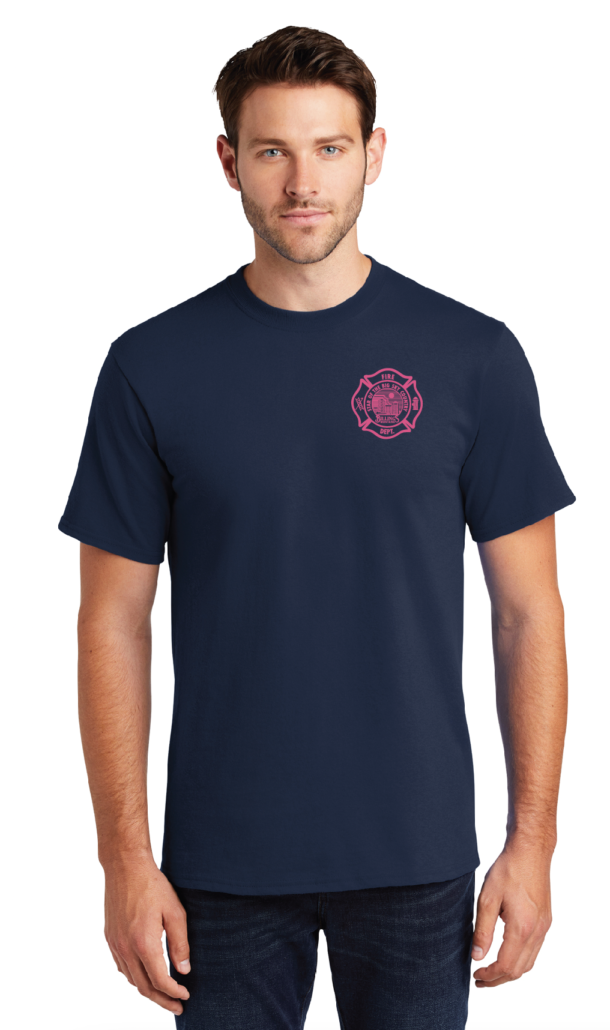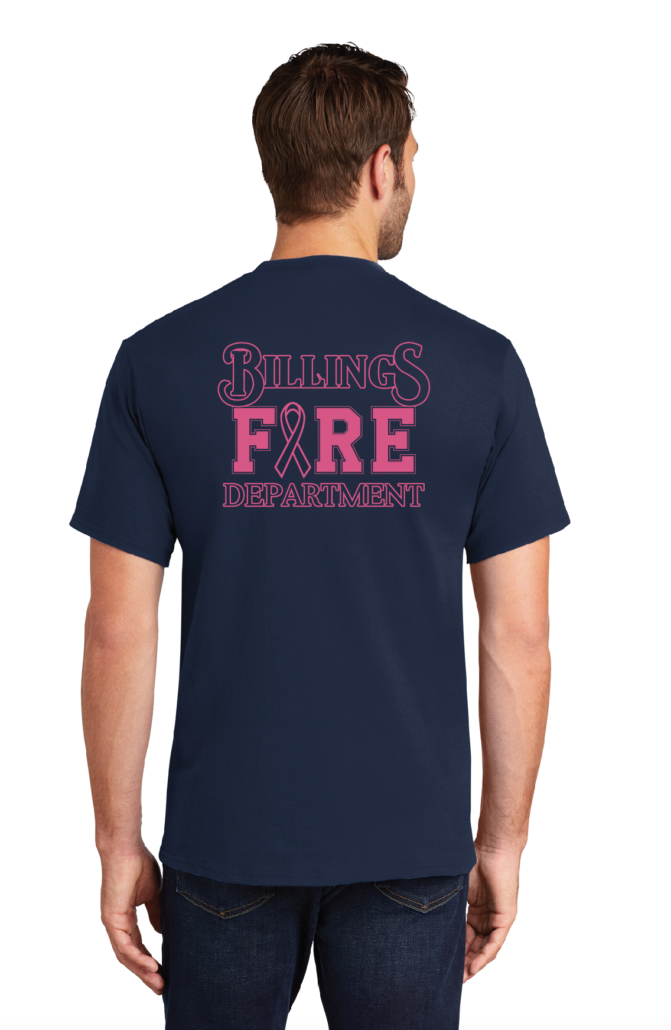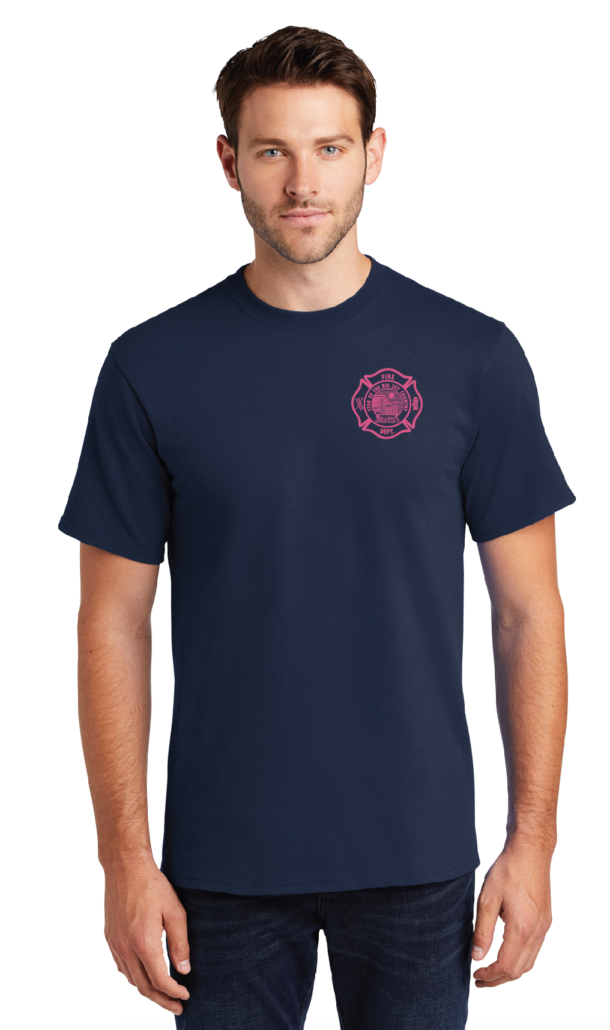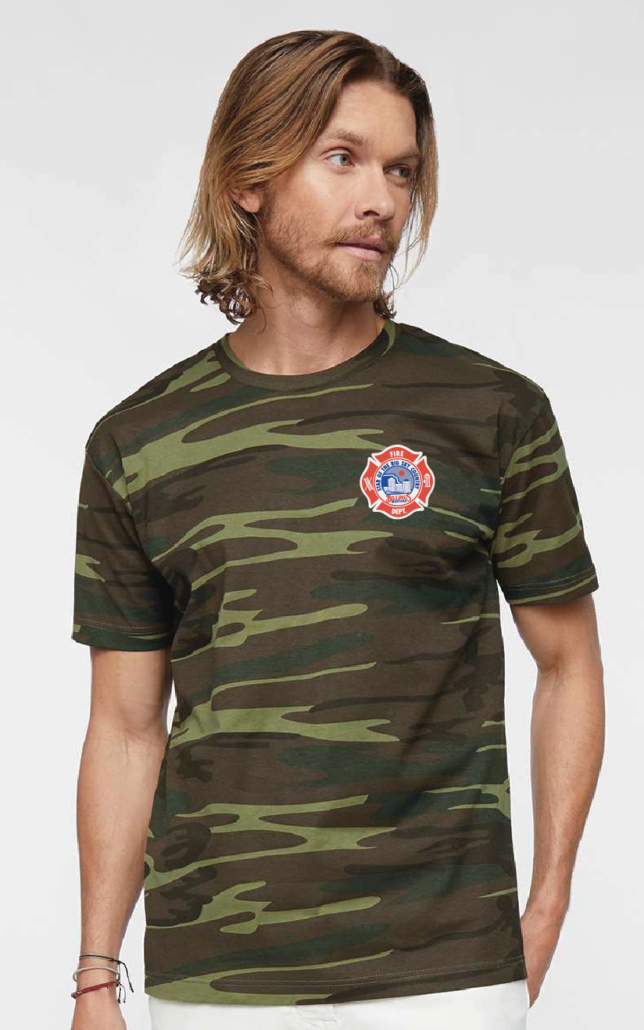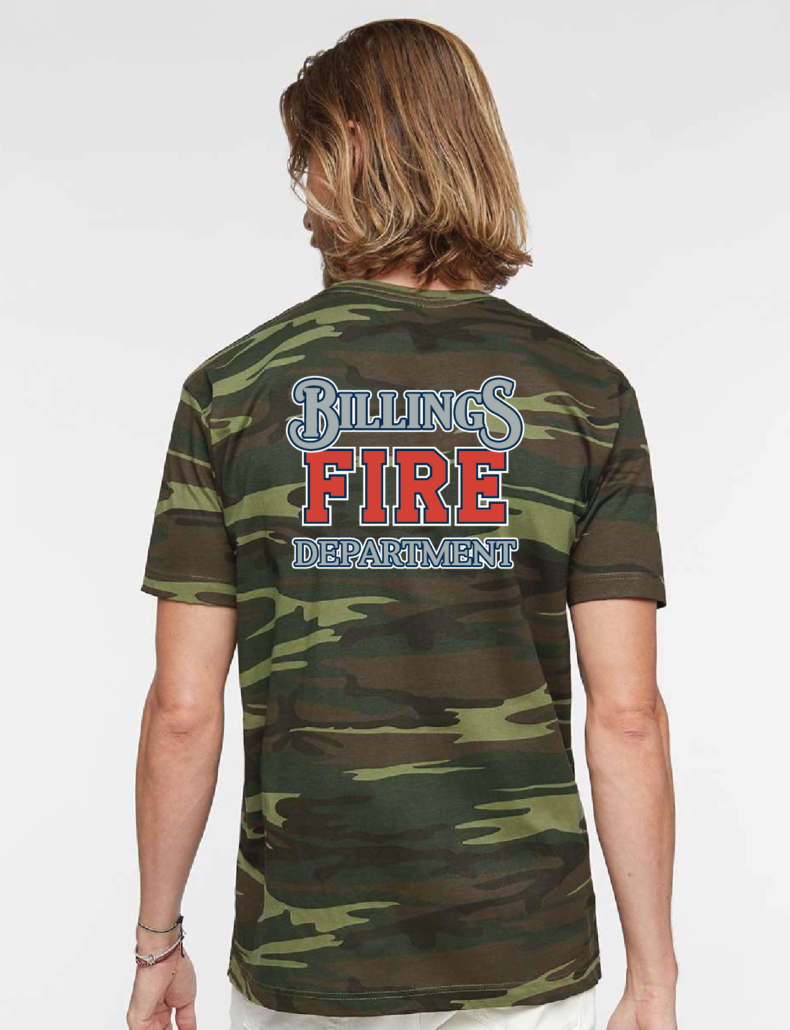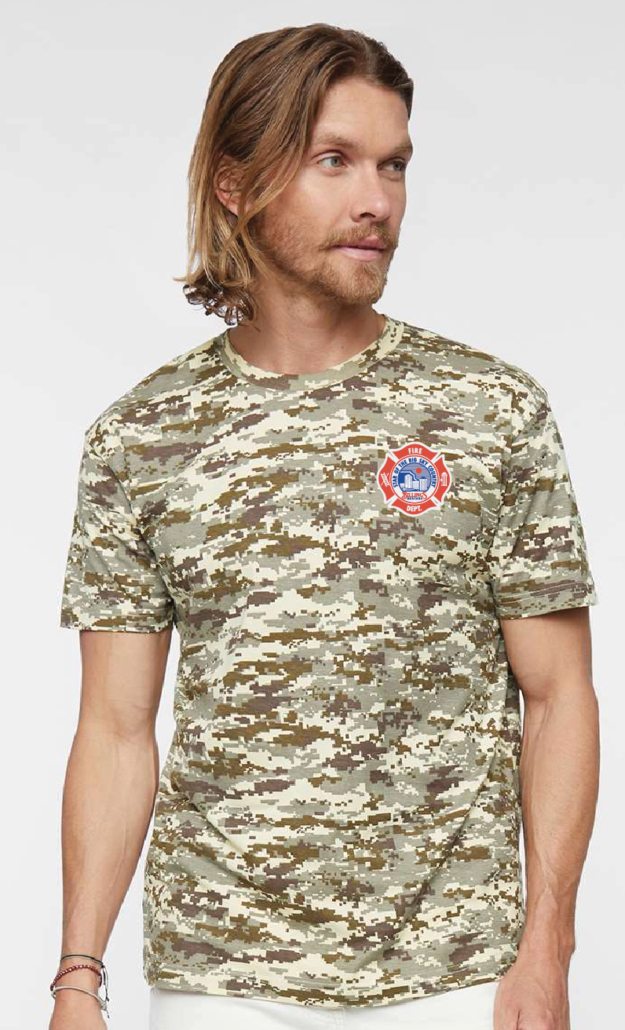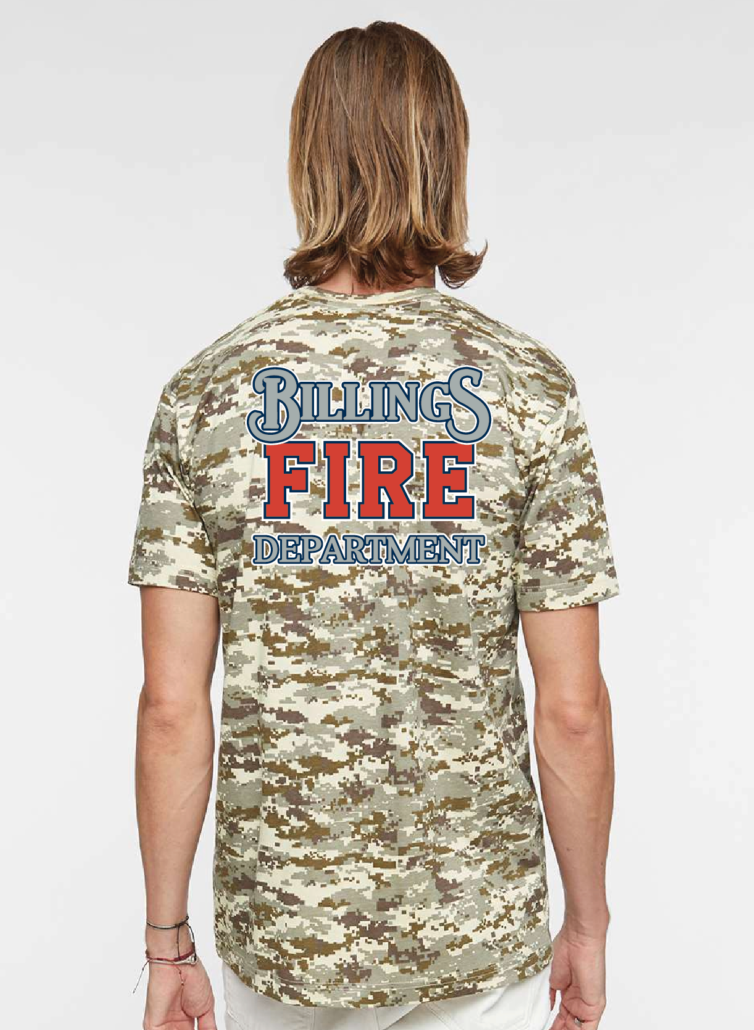 Billings Fire Department Tee Shirts
Join your Billings Firefighters in raising money while sporting some special occasion Tee Shirts.
October is Breast Cancer Awareness Month.  Your Billings Firefighters will be wearing Pink Tee Shirts all of October in support of those affected by breast cancer. (Ordering has concluded, but Camo shirts for November are still available.
Click Here to Order Tee Shirts!!! 
November we are honoring our Armed Forces Veterans with two different camouflage Tee Shirts.  Each Tee Shirt sold will include a donation to a Veterans organization that is Montana based(To be determined by Local 521 firefighters).  Orders must be completed by October 20th and should be ready for pickup by October 31st.
Billings Firefighters 2023 Gun-A-Day Raffle
30 Guns in 30 Days
(Name/Ticket information will be corrected as official ticket information is received.
*Sept 1. Steven Cook, Laurel,

Ticket #054
–

Mossberg Patriot Pkg  

$449.99
*Sept 2.  – Lauren Hafer,
Bozeman

,

Ticket #1109-

Browning X-Bolt Speed Ovix  

$1,249.99
*Sept 3.   – Katrina Welsh, Laurel, 

Ticket #195- 
Beretta A300 Ultima  

$849.99
*Sept 4.   – Wyatt Kueker,
Billings

,

Ticket #1611-

Smith & Wesson MP9 Shield EZ  

$499.99
*Sept 5.   Russ Mason, Lewistown,

Ticket #1778-

 
Winchester SXP Black Shadow 12 GA  

$349.99
*Sept 6.   Dana Bishop,
Billings

,

Ticket #1740

–

Henry Golden Boy 22 LR  

$529.99
*Sept 7.  

 

–

Teri Lincoln

, Billings,

Ticket#478 

Springfield Hellcat OSP  

$619.99
*Sept 8.  

-Timm Twardaslo,

Helena,
Ticket #1825,

Stoeger P3000 Max5  

$299.99
*Sept 9.  

  –

Brenda Blomberg,

Hamilton?, Ticket #2364
Ruger AR 5.56  

$749.99
*Sept 10.  –

Nate McComish,

Laurel,

Ticket #1744,
Tikka T3X SS  

$879.99
*Sept 11.  –

Jacob Bausch,

Laurel,

Ticket #1750,
Daniel Defense DDM4 V7  

$1,899.99
*Sept 12. –
Jesse Harold

, Shepherd, Ticket #870, Kimber Raptor, 

$1649.99
*Sept 13.

Quinn Huppert,

Billings,

Ticket #2758

–
Bergara B14 Ridge,

$899.99
*Sept 14.

 Paxton Lambrecht,

Billings?,

Ticket #1322

–
Glock 20 Gen4  

$599.99
*Sept 15. –

Jay Selman,

Worden, Ticket #933,
Winchester SXP Defender FDE  

$479.99
*Sept 16.

 – Chris Lowe,

Billings,

Ticket # 393,
Christensen Mesa  

$1,299.99
*Sept 17.  –

Andrew O'Toole,

Billings,

Ticket # 1922,
Canik TP9SFX  

$499.99
*Sept 18.  –

Chris Sweeney,

Billings,

Ticket #1044,
Savage 555  

$699.99
*Sept 19.  

 

–

Rick Schauer,

Billings,

Ticket #1289,
Savage Axis XP  

$419.99
*Sept 20.   –

Greg Bochy,
Billings,

Ticket # 1140

,

Colt 1911C Govt 45 ACP  

$849.99
*Sept 21.  –

 

Stacy Wild,

Laurel,

Ticket #325
Ruger 10/22 SS/Syn 

$349.99
*Sept 22.   –

Levi Bogunovich,

Laurel,

Ticket #494,
Ruger American Predator

$499.99
*Sept 23.

 

–

Bill Huyser,

Laurel,

Ticket #1666,
Franchi Affinity SMU

$949.99
*Sept 24.  

 

 –

Jacob Wilkins,

 

Billings, Ticket #1373,  
Savage 93R17FXP

$379.99
*Sept 25.  

 

 –

Rita Dvorak,

Worden,

Ticket #2379,
Sig Sauer P320 M18

$649.99
*Sept 26.   –

Ryan Smith,

Billings,

Ticket # 1059,
Henry Big Boy

$929.99
*Sept 27.  

 

–

Jason Bilyeu,

Bozeman, Ticket # 740,
Sig Sauer P365X

$599.99
*Sept 28.  

 

– Dave Stricker,
Billings,

Ticket # 1278,

Benelli Nova

$449.99
*Sept 29.    –

Jake O'Toole,

Laurel,

Ticket # 1917,
Smith & Wesson 686  

$919.99
*Sept 30. GRAND PRIZE   Marlena Dvorak,

East Helena, Ticket # 1976

 –
Custom Shiloh Sharps 1874 Montana Roughrider 45/70 (Must be claimed from Sharps in Big Timber)

$3,100.00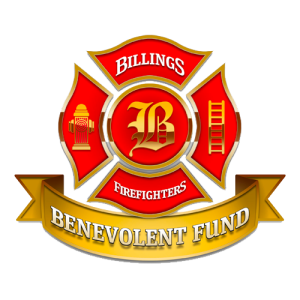 The Billings Firefighters are proud to announce our benevolent fund is now an official 501c3 organization.  The benevolent website is: https://www.benevolent521.org/
The Billings Firefighters Benevolent Fund is a 501 (c)3 nonprofit started with a core value of firefighters helping their community. Hundreds of thousands of dollars have been distributed to those in need in the Billings community and beyond since its inception. We use these funds to help families displaced from their home to a fire, help families with emergency medical costs, help firefighters who get sick or injured, and many other causes around the Billings community. We also assist other nonprofit organizations by supporting their events and providing donations for their cause. Every year, members of the Billings Firefighters and their families donate their time to assist in fundraising events and community outreach.
Billings Fire Department Station and Staffing Studies
Four studies are available to view using the following web-links.
The first link is a study that Billings Firefighters commissioned through the International Association of Firefighters (IAFF).  The IAFF performs these studies as a service to the Local Firefighter's Union and is funded through member dues.  No taxpayer funds were used to complete this study.
The following three links are studies that the City of Billings commissioned to have an outside consulting firm evaluate the effectiveness of the Billings Fire Department emergency services.  Each of these following studies were completed using City of Billings taxpayer funds (CPSM study cost taxpayers $140,860 according to City Council Minutes 8/10/2020)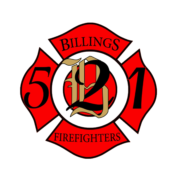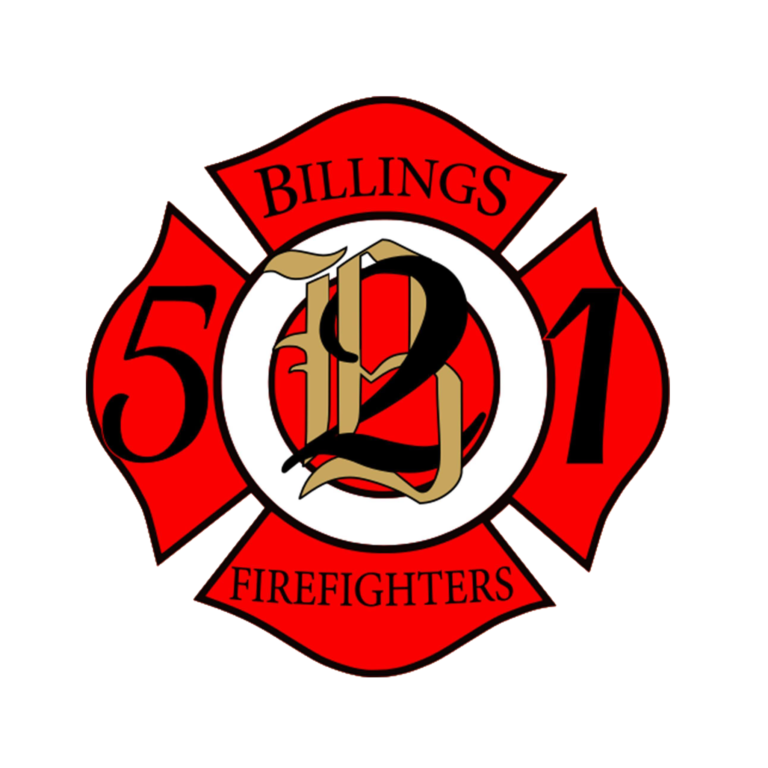 Since 1937, Billings Fire Fighters have been protecting the citizens in the Yellowstone Valley from Fires, Medical Emergencies and other unforeseen Hazards. Additionally we represent over 100 uniformed firefighters that work for the City of Billings.
As Billings Fire Fighters, we serve our citizens based on our core values. Honesty, integrity, compassion. These are our guiding principals. We face daily emergencies that require us to be quick problem solvers to make your worse day, a little bit better.
Just another typical day" does not fit in our narrative. Everyday brings new challenges and new encounters. We train everyday to prepare for when the"What ifs" turn into reality. Not just limited to fires and medical emergencies, our training prepares us for Hazardous Materials and Specialty rescues. With Billings unique landscapes it is not uncommon for us to perform Rim as well as River rescues.
Billings Firefighters are here to serve you, the citizens of Billings.
Click here to add your own text